We headed back to the ship with our haul of beer in Marion's backpack. The Zaandam on the left is a bit larger than the Norwegian Dream!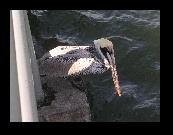 Pelicans lined the pier. This is a face only a mother could love!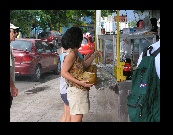 Heading back to Puntarenas after lunch on the ship, Shu Fong bought us a coconut juice drink. I didn't care for it myself.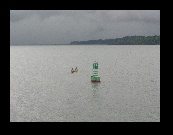 Next destination: Panama Canal. Here we're approaching the Miraflores Locks on the Pacific side of the Panama Canal, first step in transiting the canal to the Caribbean.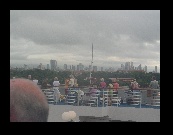 Panama City as seen from the top deck of the Norwegian Dream. It was a VERY humid morning which was soon to turn to rain.

Approaching the Bridge of the Americas, quite an impressive site as we wend our way toward the first locks at Miraflores.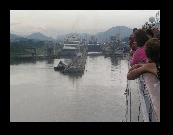 The Zaandam has just entered the first lock, and the ship ahead of us is already in the second lock.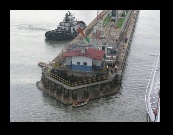 Out on the end of the concrete pier, the mechanical indicator arrow points us to the right side lock. The men in the small boat will catch lines thrown from the ship and attach them to the little train called a "mule".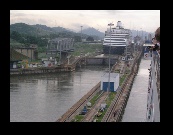 The Zaandam appears about to clear the first lock as we prepare to enter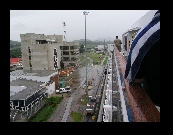 One of our ''mules'' is visible at the lower center of the picture. The pilot controls these ''mules'' which assure we don't bump the sides or gates. As many as six may be used on large vessels.