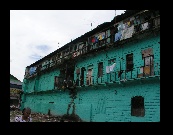 More downtown slums in Colon, Panama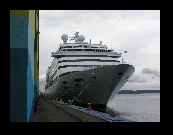 The Norwegian Dream is tied up alongside Pier 6 at Colon, Panama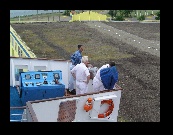 The Captain is out on the flying bridge with the pilot (in civvies) preparing to depart Colon. Side thrusters permit the ship to simply edge away from the pier.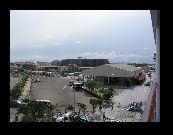 Next stop: Aruba. Looking down at the Oranjestad terminal building at right and the walkway to the bus terminal and main street.

The ''Pink building'' is quite a landmark, and houses part of a very large, upscale, modern shopping center.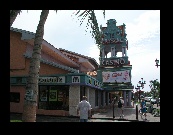 McDonalds with its drive-thru and the Crystal Casino both open inside to the Renaissance Mall.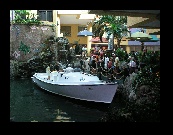 This boat ferries hotel guests to and from the hotel's beach area. You must be a hotel resident to ride.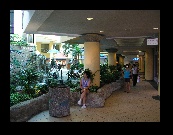 Angie's found a place in the mall with a breeze and is trying to cool off. The mall is not air conditioned although most stores are.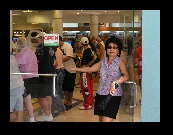 Such a cool store that Angie decides to work as a door man for free!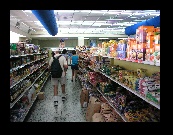 We found two nice groceries, both run by Chinese. The shelves were well stocked with a variety of international goods and local fruits and products.