A drive to Austin, SW flight to LAX, Super Shuttle to Port of LA and we're aboard the Norwegian Dream where Angie and Shu-Fong relax in our cabin prior to sailing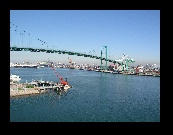 Seen from the top deck, the Vincent Thomas Bridge is quite a site in San Pedro Harbor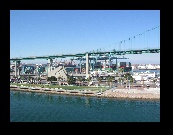 This Chinese container vessel being loaded nearby was huge!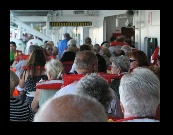 A lifeboat drill as required by law starts out every cruise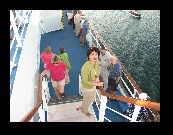 After enjoying the departure views from the top deck, Angie heads down to the room. You can just see the pilot boat approaching at the top right

When we got down to our room, the pilot's boat was just outside our window.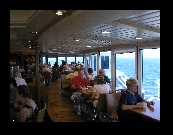 This was the breakfast scene in the "Sports Bar" on the aft end of the ship the next morning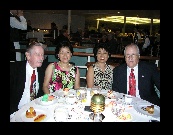 Marion, Shu Fong, Angie and Jim at dinner on a "dress up" night.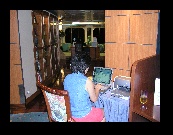 Angie is working hard at the computer in the internet cafe. Pricey but allows you to keep up with business.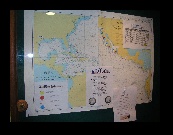 The course tracking map shows our position 4 times a day, and gives other pertinent information