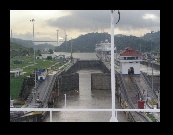 The gates open to allow us into the Pedro Miguel Locks, the last step in lifting us up 85 feet to the level of Gatun Lake.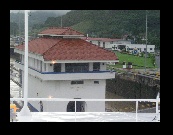 The Pedro Miguel control tower, built for the original canal in 1913.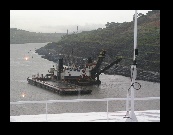 This crane is dredging the Culebra Cut and dumping the sludge in the barge. This part of the canal was the major construction feat of the canal project.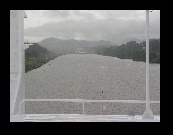 Proceeding down the Culebra Cut, the markers on shore at right center allow the pilot to line up the ship either to the center of the channel or to the right if meeting traffic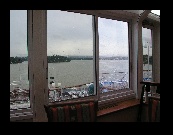 We took a break for lunch and were rewarded with this view of Gatun Lake from the rear of the ship.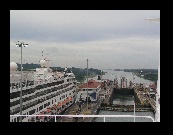 We're just entering the first of the three Gatun locks with a container ship in front of us and the Zaandam along side. Here we'll drop back down 85 feet to the Caribbean level.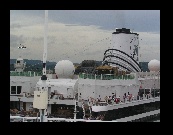 We pull along side the Zaandam for a few minutes

Again we're behind the Zaandam and the Star Harmonia with the Gatun Locks control tower in the bottom left of the picture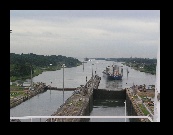 The Star Harmonia exits the last lock and we prepare to enter it.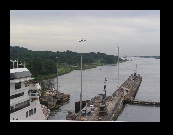 As we inch forward, the last lock's gates open for the

Zaandam